AgentLink Supports Local Girls Going to Prom by Spearheading Clothing Drive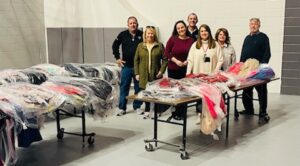 In December 2021, a series of tornadoes devastated large portions of Kentucky. The city of Mayfield was hit particularly hard and sustained major damage throughout the community. After realizing the extent of the damage, Mayfield came together in countless ways. During this time, it became apparent that many girls would not have the resources or ability to purchase dresses and accessories for their upcoming prom. Patricia Petter, a Large Group Broker Rep for AgentLink, was having a conversation with one of her agents, when they came up with an idea to help by collecting prom attire for the city's teens.
Matt McDevitt, AgentLink's President, enabled employees to donate their time and energy to ensure that this was a successful project. In the end, over 200 girls were able to "shop" for dresses, shoes, jewelry, makeup, and purses to wear on their big night. Almost $1,000 in cash donations was also raised, which was matched by McDevitt. This story had such a positive impact, Patricia Petter and Melanie Karem were asked to share about the project on the local news. Watch it here.
The operation was a success, thanks to a group effort from volunteers and local establishments. A large amount of jewelry was donated by Two Chicks & Company, Highland Cleaners supplied package material for the dresses, and the donated items were delivered by Pegasus Global. Patricia said, "These girls needed to feel special for one night amidst all of the dark nights they've had, and they deserve to feel special."
Learn more about getting contracted with AgentLink and their product offerings here.
About Accretive
Accretive consists of 2,000+ experts spanning 46 states, with the mission of facilitating growth and innovation in the specialty, program, and wholesale insurance market. With a leadership team of industry-recognized innovators, Accretive organizations have an established track record of building ground-up solutions, differentiated product delivery, and industry specialization. For more information about Accretive, please email info@accretive-ins.com or visit www.accretive-ins.com.